Next up, more Marc Almond EPs.
The "Stained E.P.," containing "Ruby Red," came out in 1986. "Ruby Red" was clearly positioned as a single – it's kinda upbeat and almost poppy, for Marc.
Well it seems you have a heart
I saw it once so I know it's true
You let it out on Sundays when
You let it beat me black and blue
When you went and stole my heart
I saw it go so I know it's true
It was a ruby, ruby, ruby red
It was the most precious gift I could give to you
As I said . . . for Marc, that's practically "Sugar Sugar."
On the same side as "Ruby Red" were "Anarcoma," another dark tale of depravity, and the rhythmic cabaret of "I'm Sick of You Tasting of Somebody Else." Wow. Since I started writing this last week, I've played that A side again. And again. And again. Damn, I think I love it again. (Can't say the same for the others in this post.) "I'm Sick of You …" goes like this:
You come home drunk and you come home dead
Spreading somebody else all over the bed
It's so hard
It's so god damn hard . . .
Jesus grin and a Satan's skin
Make too much trouble to leave me in
You come home mad and you come home tired
Suicide and you're sick inside
It's so hard
It's so god damn hard
The other side is "Broken Hearted and Beautiful," and an exotic chant called "Jackal Jackal," with the alternate title of "Mustapha Tomb Stone Teeth."
Apparently I picked this one up at Viable Alternatives Records in NYC.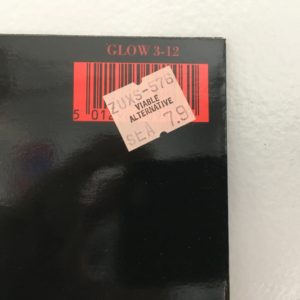 These were fine, but never my favorite Marc songs, and they don't stir a lot by way of particular memories.