This "best of" compilation came out in February of 1966, and went gold in the US, peaking at no. 6, higher than any of their individual albums. Considering their first album in the US, "The Animals," had been released only in September 1964, it might seem pretty bold to be putting out a greatest hits collection. But they released at least eight singles in that period, and that's how the record biz worked in the '60s. Original member Alan Price, who produced most of the Animals' signature organ/keyboard sounds, had left the group by the time this record came out, and he wouldn't be the only one. As the Wikipedia entry says, "This was the first Animals album to feature new keyboardist Dave Rowberry in its photographs. Liner notes by Record Beat's June Harris extolled the musical and cultural virtues of the group and emphasized how close she was to the group. However, overall copyediting was poor and three of the members' names were misspelled." (Yes. I'll talk liner notes at the end.)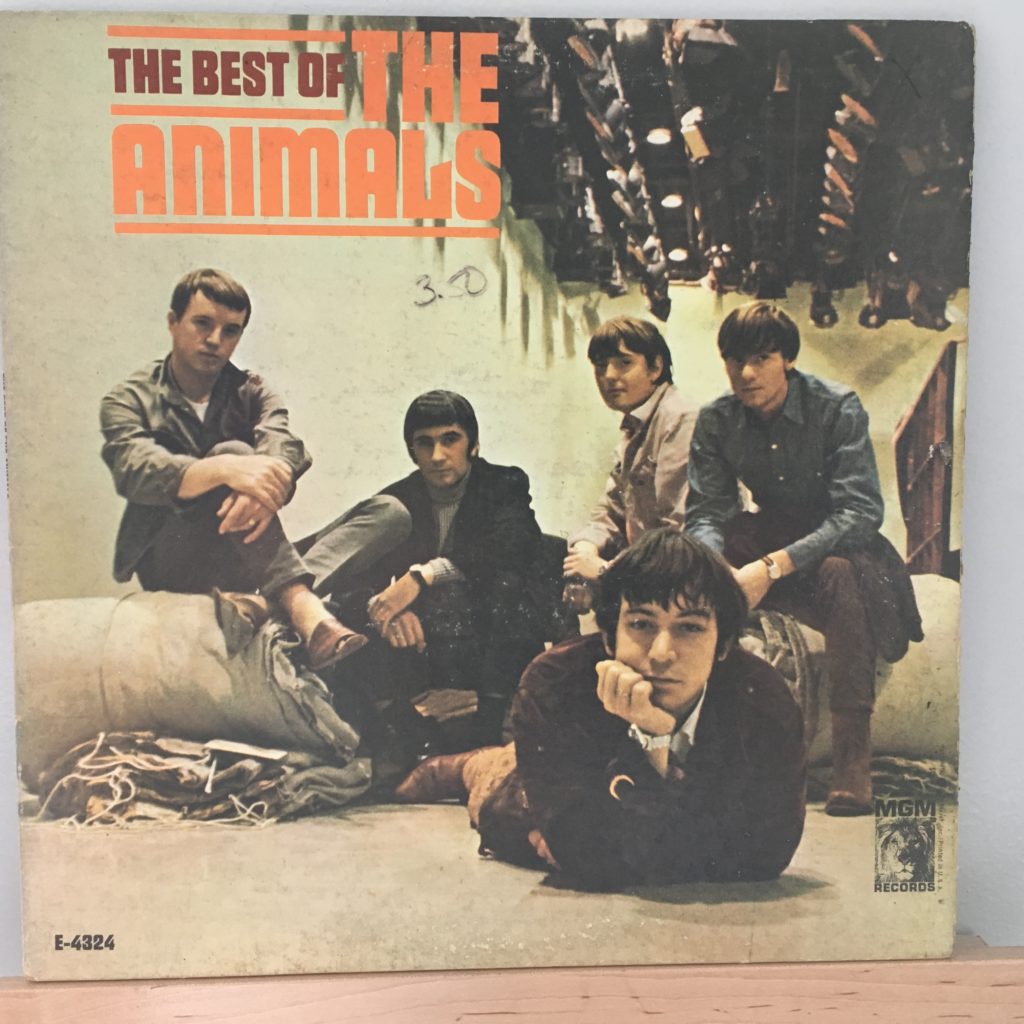 The music, however, is truly representative of The Animals and, contrary to common practice at the time, it isn't restricted to their singles. Despite the many originals the band included on their first albums, this only includes one Animal-penned song, Price and Burdon's "I'm Crying," which is very solid. The rest of the record is R&B covers, and the full-length version of their iconic "The House of the Rising Sun."
I couldn't put an exact date on when I got this album; probably somewhen in 1979 or 1980 at the latest, when I believe I amassed most of my Animals records. Seriously, I went on a little tear after picking up my first one in the summer of '79 (which was Best of, Vol. II, which we'll get to). I was so into Eric Burdon's voice, the sound of the blues, those incredible (mostly Alan Price) keyboards . . . everything.
This album opens with another Brill Building composition, "It's My Life," written specifically for The Animals by Roger Atkins and Carl D'Errico, and this single (not included on another album) would be the songwriters' biggest hit. It is dark and raucous, bridging the group from R&B to rock & roll. It's a pretty great song, suited to their sound. Sing the chorus loud enough and it's almost punk. Then they cover John Lee Hooker (twice), Fats Domino, Sam Cooke, and more – always with that distinctive Animals style. Where some other British groups' early R&B covers could be, shall we say, weak or timid, The Animals always delivered a strong performance.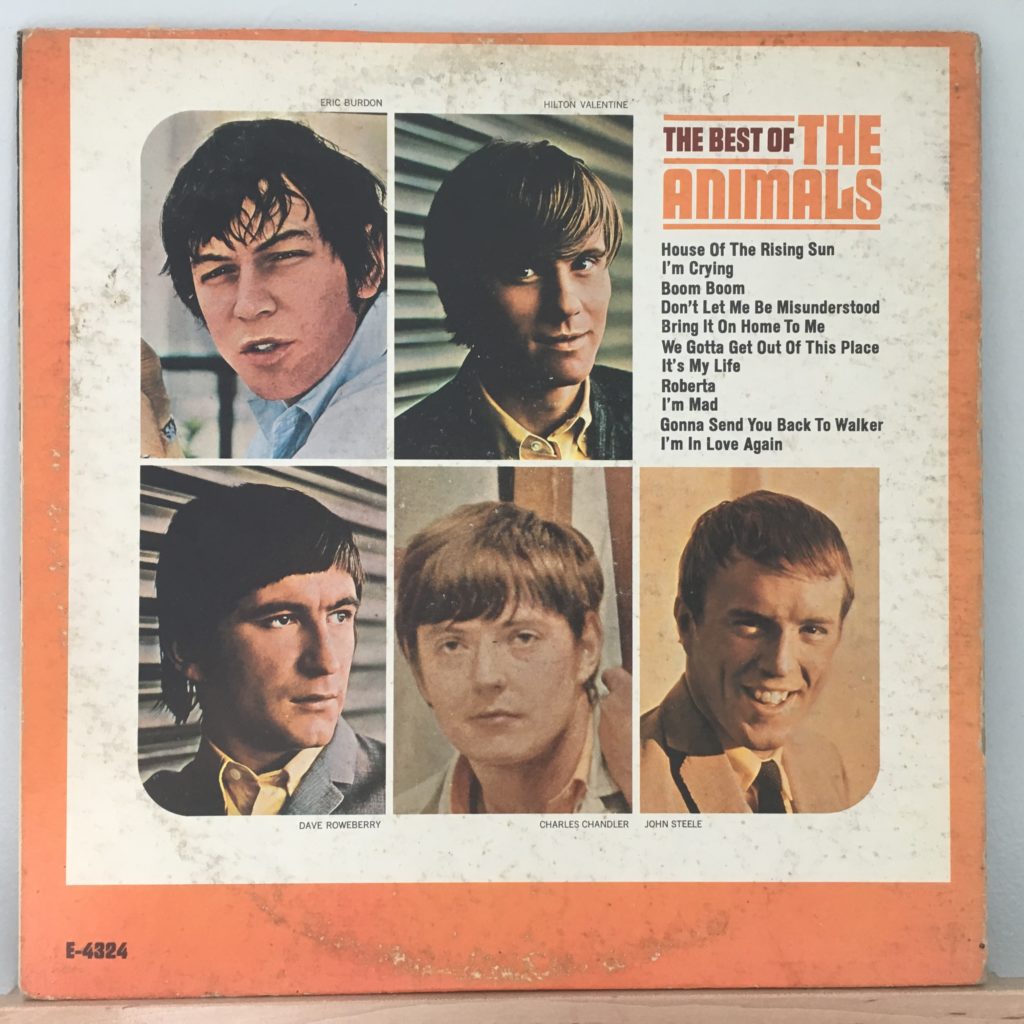 This was the last album to feature Alan Price, and while it wouldn't be fair to say that the Animals' keyboard parts suffered as a result, it wouldn't be fair to say they were the same after this, either.
We were fortunate enough to see Eric Burdon play JB's Theater, the barnlike successor to the legendary JB Scott's in Albany, sometime in the mid-'80s (he says questioningly?). Other than remembering the show as excellent and being angry at the usual yobbos who shout out song titles (bookmark for future rant), the only thing that really stands out for me was when Eric was about to settle in to that song, the one he's had to sing thousands of times, the one he didn't write, the one that isn't even particularly representative of what The Animals, in any incarnation, were about. I'm not saying "The House of the Rising Sun" isn't a great song — it is. It was great in its old traditional arrangements, it was great when Leadbelly did it, it was great when people thought Dave Van Ronk wrote it. The Animals flopped the lyrical point of view around, arpeggiated the chords that Bob Dylan had put to it, and then Alan Price wailed away on a Vox Continental to make one of the best known songs in music history. But given the thousands of times he had heard people calling out for a song that they had heard thousands of times, I think Eric could be forgiven for what he did as the guitar started up the chords: he leaned down low, way off mic, and said for the benefit of the few who were standing right up front, "I hate this fucking song."
And then of course he killed it.
As a side note, I will always forgive any artist who chooses not to perform their best-known stuff live. I know I'm alone in it, but unless they're bringing something new to it, unless they're enjoying it, unless they WANT to play the song, I don't need them to. That's not to say they can only play the latest album when they've got a 20-year career with their best stuff behind them, but it does mean I won't be that idiot standing there screaming for their one big hit that everyone knows, annoying the rest of the fans who have a deeper appreciation for their catalog. (Apparently, you don't know who you are.)
So, the liner notes. As a music fan, I always want liner notes. I want more information about the band, the songs, the production, everything. This was especially important back in the '60s, when there wasn't another easy way to find any of this stuff out. But many, many liner notes seems to fundamentally misunderstand their purpose. They often say nothing more than "you should really buy this record," which, if they are printed on the inside of a gatefold or on a sleeve, we can presume was already the case. The notes on this album, from June Harris of Record Beat, are better than most, after a rough start. She tries to establish her Animals cred by noting her association with them went back to when they were the "Alan Prince Combo." That must have come as a surprise to Alan Price. This is certainly not June's fault – the cover adds an 'e' to John Steel's name, and makes Chas Chandler into "Charles" (his name was Bryan) – but it doesn't help.
Her notes are definitely longer than most. I always liked having something to read as I sat and listened to an album, back in the days of intent listening, in the days before children and career and brain damage and multitasking. And she talks about their musical tastes and intensity (and Eric's love of suede), so at least these have something to say. Every record should have liner notes!