So, fast forward about, say, 39 years, from when I bought my first Byrds vinyl to when I bought my next. The tremendous reissue label Sundazed Records, which I first became familiar with through some fantastic surf music re-releases, put out a fantastic alternative version of the Byrds' classic "Fifth Dimension." Titled "Another Dimension," this includes some alternate instrumental takes (listen to "Eight Miles High" without any vocals — it's still incredible), versions without the orchestral overlays, other little differences. It's beautifully remastered, and laid out across two 10" discs (why? Who knows — it's a fun novelty). In the gatefold is the transcript of a press conference the group held just after Gene Clark had left the group — a topic they had to address with some good humor, after having played a cassette of "Eight Miles High" and having to try to explain that….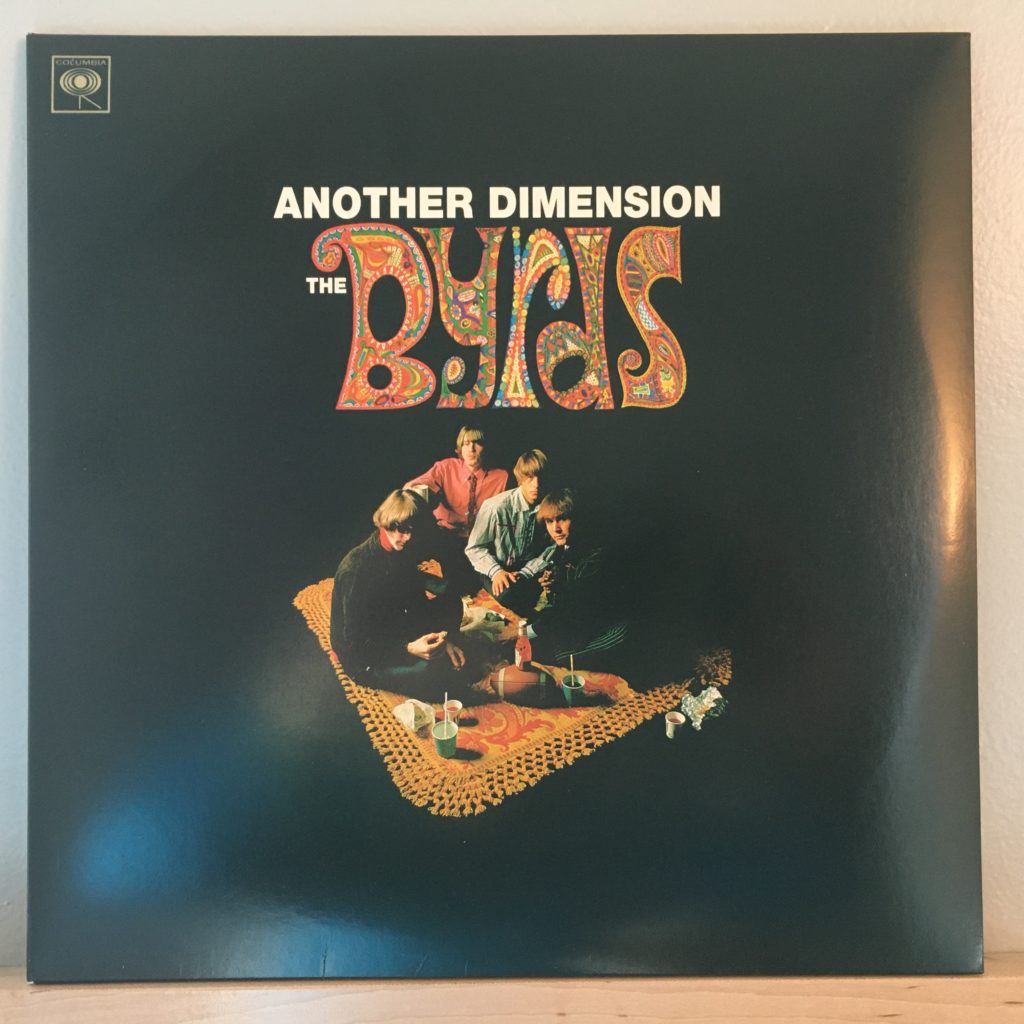 The sound on this record is just just so good. It came some time after I'd already picked up digital copies of most of the other Byrds albums, cycled through them and back out . . . and then discovered some local friends with a similar and unlikely love of the Byrds. which caused me to triple down on my Byrds listening. In fact, you could say this whole blog came about because suddenly, after 30 years, I had friends who wanted to talk records. Not just music, but specifically records. And those friends have, in some areas, strongly similar tastes. Talking about records made me want to write about records, and tell the stories behind them — to the extent that I can remember them.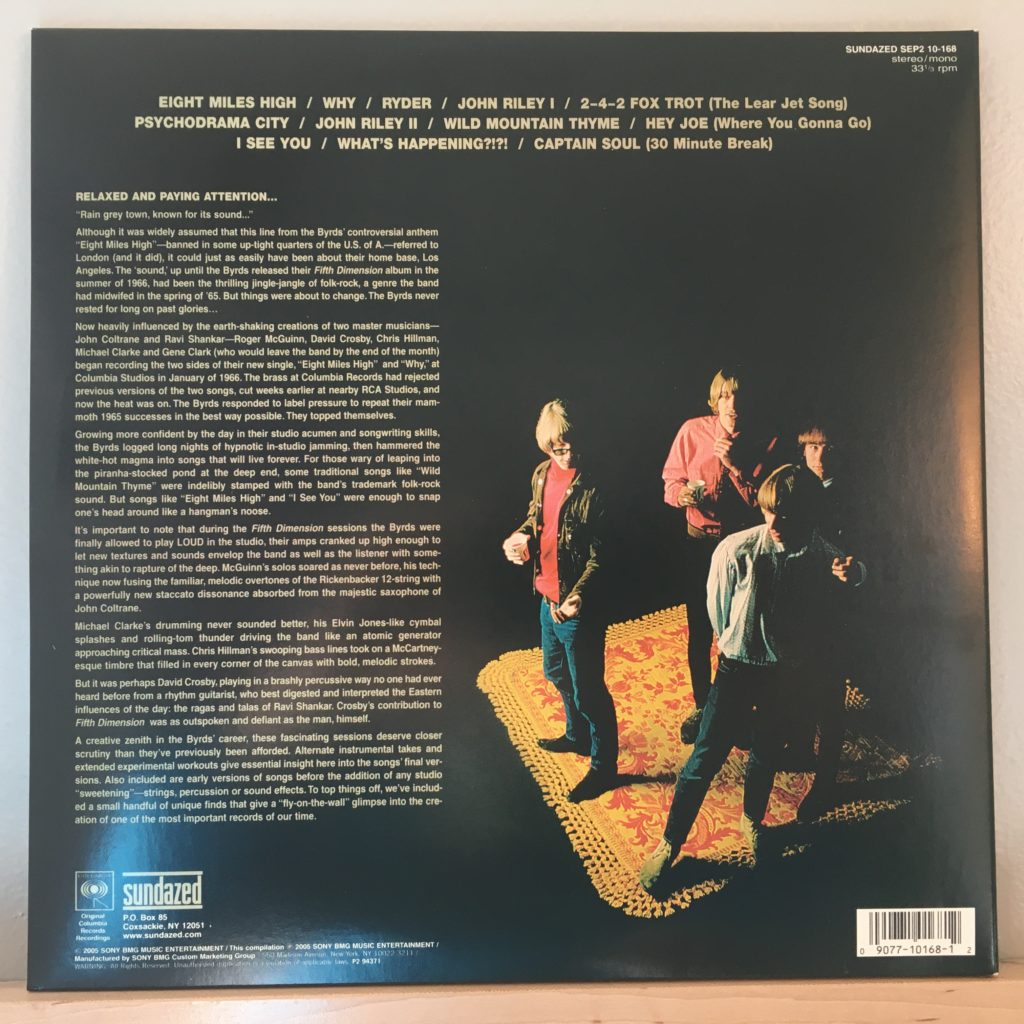 So — aside #1:

In the Department of Kicking Myself — back when I went to college, every year Syracuse University would have a fairly major concert on the quad in the fall. Big party, free, big name bands. My freshman year, the act was McGuinn, Clark & Hillman — billed as formerly of The Byrds. Now, I'm a 17-year-old idiot. My exposure to the Byrds, whose heyday had been 10 years before, consisted of their AM radio hits. I probably best knew "Turn! Turn! Turn!" a song I could do without. I kinda knew "Eight Miles High." But also, being a CSN and sometimes Y fan, I knew that The Byrds without David Crosby was probably something less than The Byrds. The preview in The Daily Orange, where I was one of the newest recruits, said that "During the early sixties, McGuinn wrote for Judy Collins and was the lead guitarist for Bobby Darin. He also toured for two years with the Chad Mitchell Trio." It then related how Gene Clark had been with the New Christy Minstrels. So, to young idiot me — none of that sounded like what I wanted to hear. Were they gonna do Byrds songs? Also, weirdly, this concert was on a Thursday night. (No, I don't just happen to remember that. Happily, the DO has archives online.) Thursday was a heavy production night for the DO, as I recall, and having just started work there as a rim rat, it was more important to work than hit a concert on the quad. So, I didn't go, and as a result have never seen any iteration of The Byrds. For what it's worth, the review a few days later reported that "the aroma of beer and herbal enchantment flowed steadily throughout the evening, while the band wound its way through several light acoustic pieces and an array of heavier rock songs stockpiled from the '60s." The highlights were "Chimes of Freedom," "Hey Mr. Spaceman," and "Chestnut Mare," and apparently the crowd stood up for "Turn! Turn! Turn!" probably because it was the song they most recognized.
So — aside #2:
I would love to know how Sundazed, a crazy cool label, came to be located in Coxsackie, NY, a town not far from my old haunts and best known for a state prison and a childhood virus. I'm sure it's as mundane as can be, just where some guy happened to live when he started the thing, but I'd still like to know.
So — aside #3:
A rim rat was a junior copy editor. We sat around a half-circle table with a cutout in the center in which the copy editor sat (it was called "sitting slot"). Because we sat on the rim, we were called rim rats. I believe the copy editor made the most out of it, teasing us about cheese.