I remember getting "Black Market Clash." It was my third summer in Syracuse, 1981. We were living in a hot apartment, technically a sublet — we were staying in an apartment over a sub shop while waiting for the apartment across the hall, over a little grocery store, to open up in the fall. This was not a shining time in my life. I was coming off a break in my studies caused by the cratering of federal financial aid under Reagan's now achieved dream of defunding the educational system. I spent a semester and that summer working full-time to squirrel away money, but I had also heavily entered the "fuck-it" zone, where I wasn't sure any of this mattered. Combined with heavy addiction and the collapse of my personal relationship — ugh, that was not a good summer.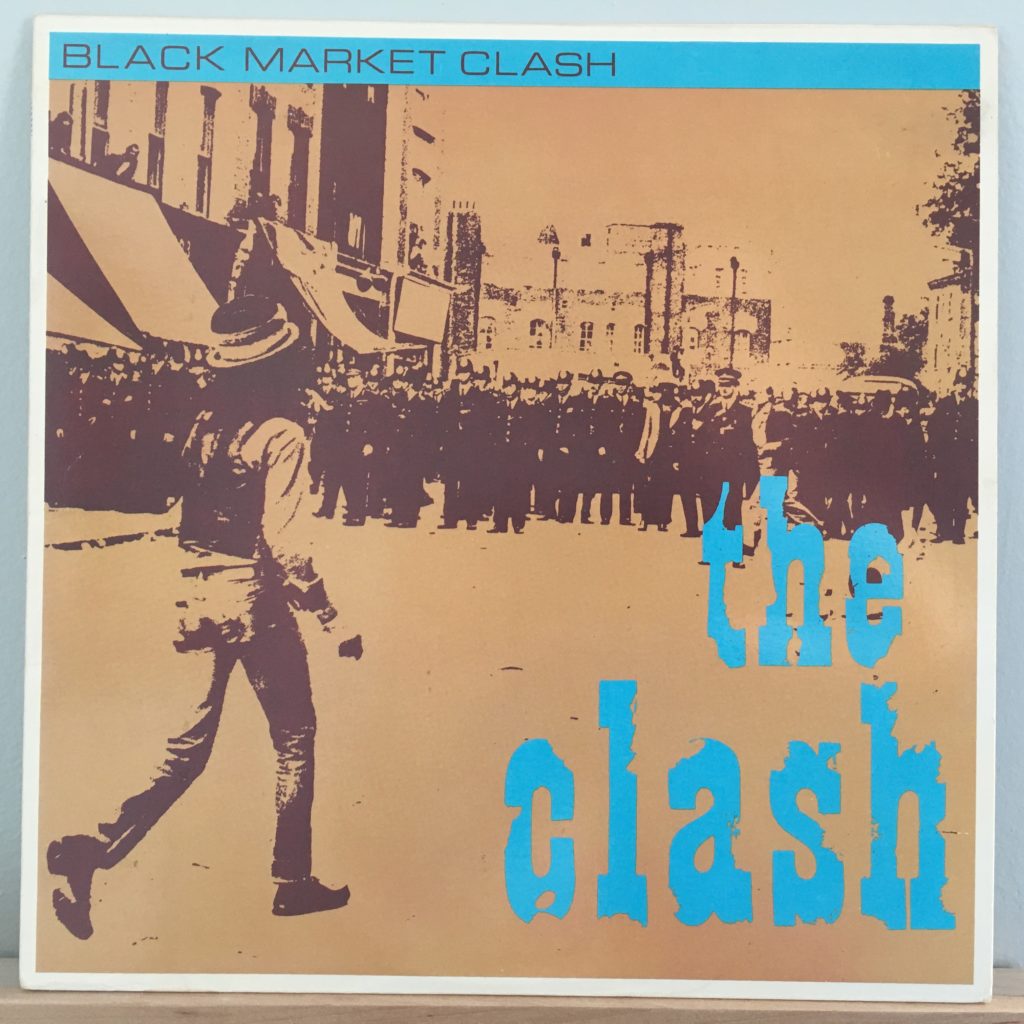 I had a very large bedroom entirely to myself, and within it I used some furniture and screens to create a cozy listening cave. Within that cave, drunk and high at nearly all times, I listened to pretty much three artists the whole summer: The Clash, Eddie Cochran, and Sleepy LaBeef. Over and over and over. The Clash were primarily represented by "Sandinista," which we'll get to next, and "Black Market Clash."
I don't think I yet owned "The Clash," and for someone who only knew The Clash through "London Calling," this 10" collection of earlier recordings was a raw step back. Not knowing ska or dub, the whole thing was a bit of a revelation, and the incredible atmosphere of these tracks really fit my highly depressed headspace at the time. Even the wild distortion of "Time Is Tight," otherwise a straight-up Booker T song, fit my mood. I couldn't get enough of all of side 2, which all seems of a piece, going from "Bankrobber/Robber Dub" into "Armagideon Time" into "Justice Tonight/Kick It Over." When it got to the end of the side I'd just lift the needle and start it over.
It was very unusual for a major label to release a collection on 10" in the US, though Wikipedia informs me that Epic was doing it at the time in a series they called "Nu-Disk," and that other artists like Gary Glitter and Cheap Trick also got the 10" treatment. I'm not sure I have another 10" US pressing. This was put out in 1980, after "London Calling" and before "Sandinista."
I'm curious why some records that are seared into my consciousness and associated with certain moments in life, I no longer want to hear; others, I'm just fine with. Like "Sandinista," despite its association with a very bad time in my life, I still love this collection.