I ran across this at Forever Changes, Phoenixville's weekly pop-up record store, where I have taken advantage of an eclecticism wildly out of proportion to what you would expect from a pop-up to venture into some musical territory I haven't previously paid much attention to. We'll get to the store's namesake album eventually, but right now we're here with this gem, "The Psych Funk of Black Merda." I bought it based on the cover alone, and a solid belief that whatever was inside, I would be digging it. I was not wrong.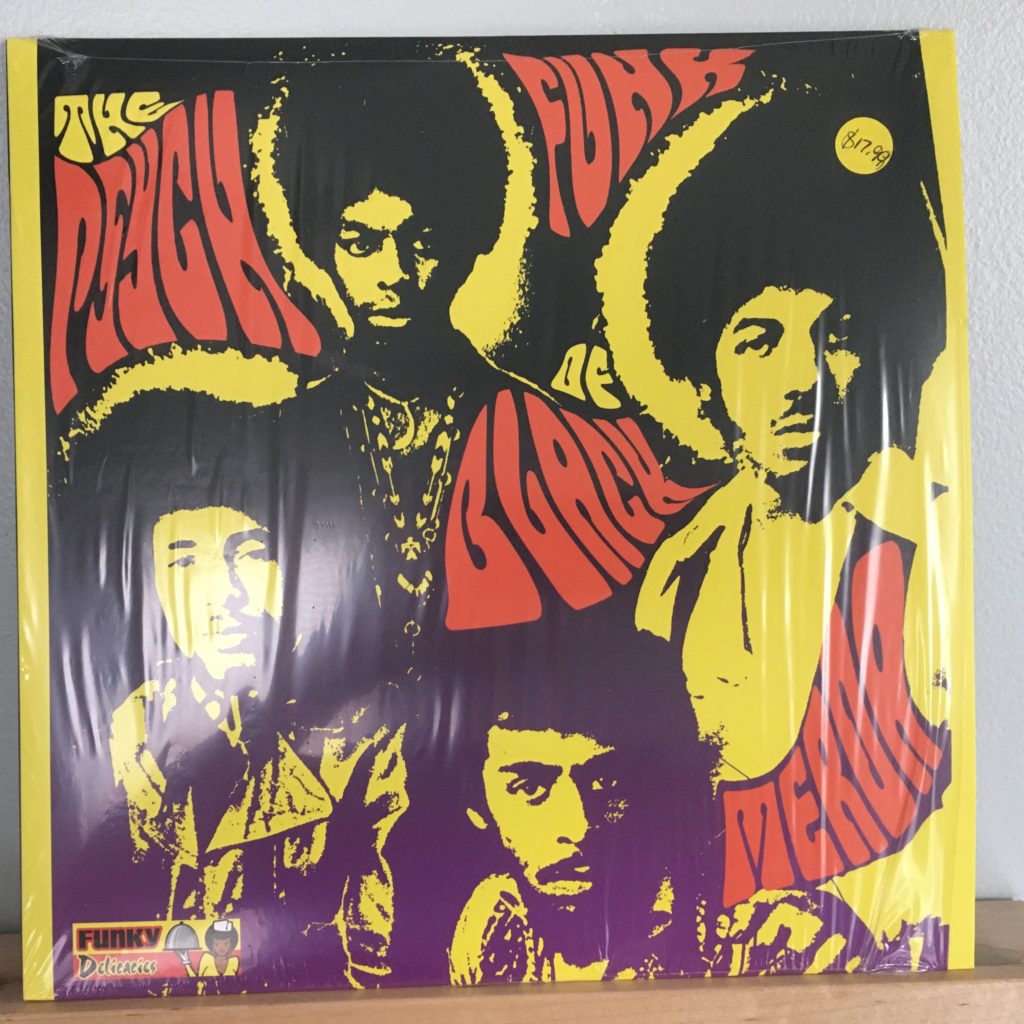 I had never even heard of Black Merda, so I'll admit to a tiny bit of phone Googling before I swiped that credit card, but that just solidified my expectations of what would be inside. It turned out that the members of this Detroit group – Anthony Hawkins, VC Lamont Veasey, and Tyrone Hite – had been The Soul Agents, backing up an array of Motown and Brunswick acts and performing as Edwin Starr's permanent backing band. These are the guys on "Twenty Five Miles." These are the guys on "War." With the addition of younger brother Charles Hawkins, they expanded into psychedelic and funk, and settled on the name "Black Murder" as a political statement about police and Klan oppression; they softened that somewhat into "Black Merda."
This disc, it turns out, is a collection of rarities (as if the Black Merda catalog wasn't enough of a rarity on its own). Therefore, the tracks are actually credited to a variety of groups, including some singers being backed by the band.
Inspired by Cream and Jimi Hendrix, this falls more on the psych rock side than funk, at least to my ears, but it's fabulous. It also contains some righteous black anger that I would love to be able to say was only of its time; unfortunately it hasn't aged a bit.
Unfortunately, Black Merda never really got their due. Their debut album came out in 1970 but sank among management changes at Chess Records. Their second album was similarly ignored. An album they did with Ellington "Fugi" Jordan was recorded but didn't see release until 2005, as "Mary Don't Take Me on No Bad Trip." I'm on the lookout for that one, as well as a compilation of their first two albums, titled "The Folks from Mother's Mixer."
Once again, an example of properly judging an album by its cover and being pretty happy with the outcome.