Following up on the disaster (from an Animals standpoint) that was Eric Is Here – essentially a solo album – MGM came out with a second "best of" The Animals collection in June, 1967. That's just a year and four months after their first "best of." And yet, there was no shortage of great tracks to include.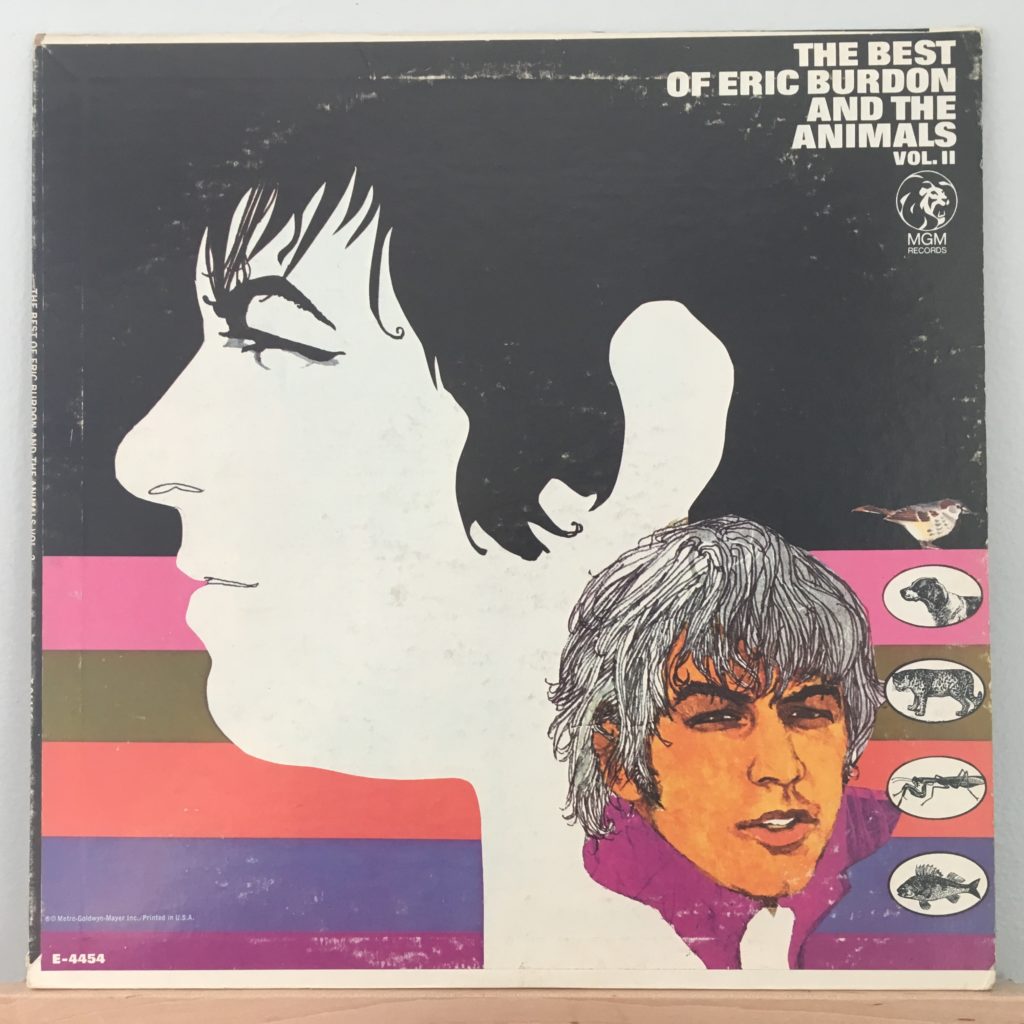 This collection was a mix of tracks from the various versions of the Animals thus far, including one from the new lineup that would appear on the "Winds of Change" album.
That lineup's first single, "When I Was Young," was a heavy bluesy number with one of those deep '60s messages: "I was so much older then / when I was young." The only original Animal is Burdon; he is joined here by Barry Jenkins on drums, John Weider on guitar and violin, Vic Briggs on guitar, and Danny McCulloch on bass. Their first song in this iteration did pretty well, hitting No. 15 in the US (and no. 2 in Australia). Of course, because it is 1967, it features a sitar riff, though it's played on guitar.
The second song was the flip side of "When I Was Young." If you've already used sitar sounds on one side of a record, might as well make a huge unsubtle drug reference on the other. That's what they did with "A Girl Named Sandoz." Anyone alive then knew that Sandoz was the company that made LSD, and that there were, in fact, no girls named Sandoz.
Well I met a girl called Sandoz
And she taught me many, many things
Good things, very good things, sweet things
Okay, Eric. And yet, it's not a bad song.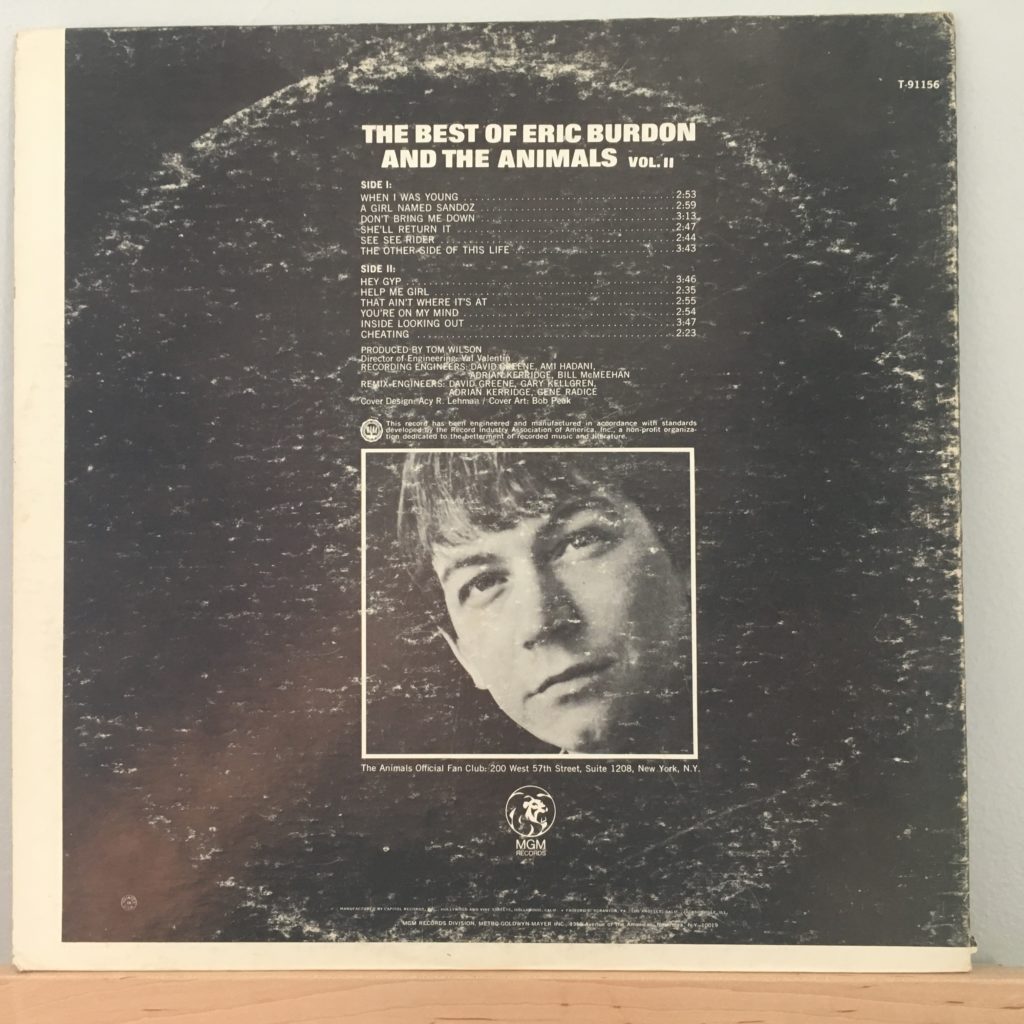 The rest of the album picks up some familiar tunes from "Animalism" and "Animalization". and two songs from "Eric Is Here" that sound a bit out of place among the more bluesy numbers. All of the songs were from 1966 and 1967.
This album was my introduction to The Animals. Of course, having grown up in the sixties, I must have heard "House of The Rising Sun," and I certainly knew of the group, but I'm not sure I knew any of their other songs before I picked up this album. I got it at a garage sale, my first summer in Syracuse. (At the same garage sale, I got The Worst of Jefferson Airplane, and "Together" by Country Joe and the Fish, beginning a substantial obsession with all three groups.)
The Acid Window
I found this in the summer after my freshman year of college, a year that had been spent on an ever-deepening obsession with The Beatles, abetted by a roommate who was equally obsessed. It was a weird, magical summer, my first summer of complete freedom, living away from home, with an easy job, enough spending money, a solid drinking problem and incredible energy.
Just for the summer, I was living in a breezy, spacious sublet well off campus with two grad students who were pleasant enough but not super interested in the antics of a drunken about-to-be-sophomore. Can't say I blame them. Ruthie at least seemed bemused by me; Liz, on the other hand, was hovering on the edge of disdain. I should say, Liz and the one sundress that she wore all summer long were hovering on the edge of disdain. She appeared to come from wealth, and yet: one sundress.
This was 1979. Ruthie and Liz were both very, very into Joni Mitchell, Laura Nyro, and other female singer songwriters, and they were into them played not very loud. I was pointedly not into those things, but I was the temporary subletter, it was their stereo, and so I had to play very, very quietly most of the time.
It was, however, a wonderful apartment for listening to music. The front room was large and airy, and there was a high window next to the fireplace that gave a view of nothing but sky. I loved to sit on the couch, next to the speakers, and just stare out onto the sky. I called it the "acid window," because I could just gaze at it for hours, just perfectly framed sky. And so there I sat, quietly taking in this incredible, mind-bending new music.
This introduction to The Animals, whatever iteration they may have been, was perfect. These songs are a little dark, a little heavy, a little beyond their standard blues. As a kid who had grown up on Top 40 radio and late '70s rock, this started to build the bridge to the real blues, even though the only rhythm and blues cover on the album was their definitive "See See Rider" and the Lomax brothers' "Inside Looking Out." The sound was driving, rough, and (excepting the "Eric Is Here" selections) not at all pop.
I never got over these songs, and it's not just the association with that magical time. There are other albums I picked up that summer and loved to pieces that I now cannot stand (The Doors, for instance: required listening for a 19-year-old idiot). The Animals don't get a lot of respect, but they really should.