People, I am here to admit that, in 1986, I did not have the funk. I mean, I remembered '70s funk fairly fondly — there wasn't anybody who wasn't at least a little familiar with Parliament/Funkadelic when I was in high school, and "Give Up the Funk (Tear The Roof Off The Sucker)" was playing on the AM airwaves and was a million-seller. But, while I enjoyed it, my limited high school record budget was spent on much worse, much more regrettable music that did not stand the test of time and was jettisoned by my second year of college. And so, beyond the singles, I didn't really know what P Funk was all about.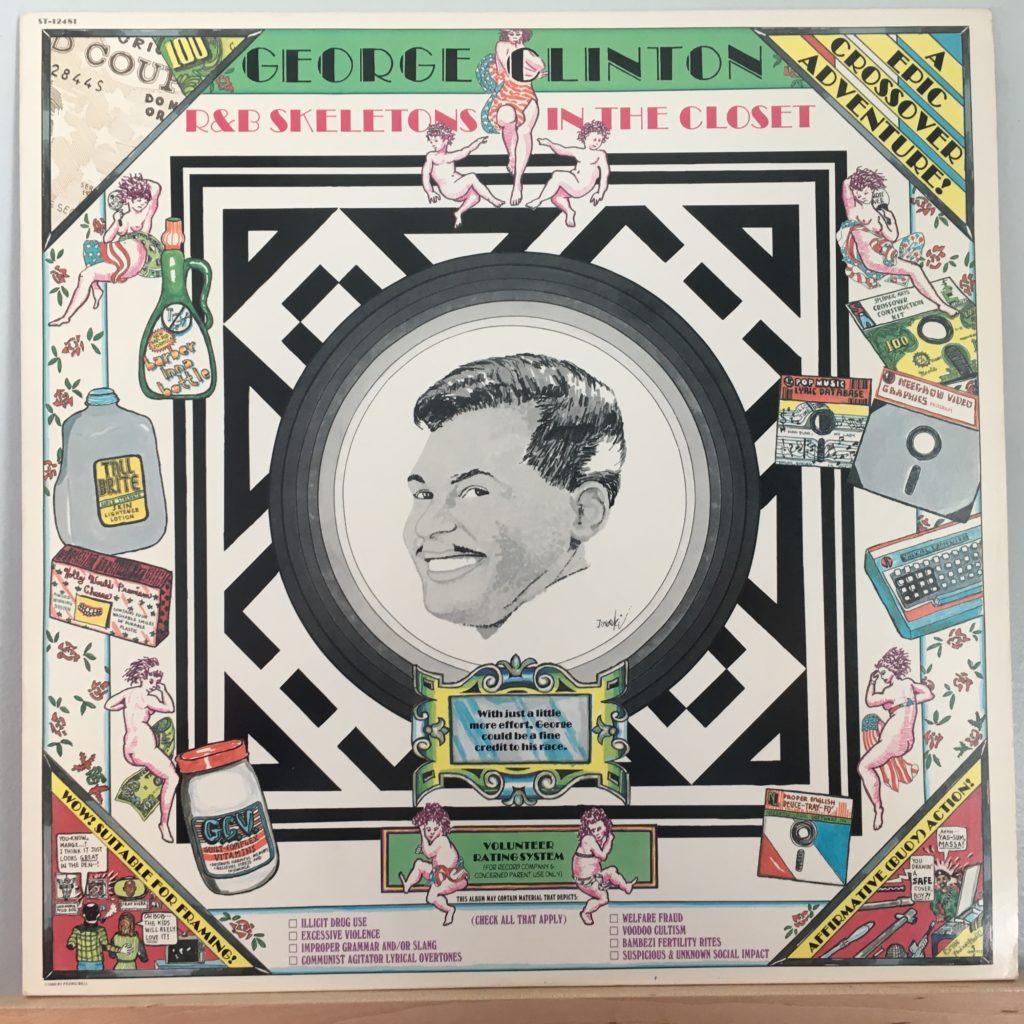 Fast forward to the mid-'80s, when radio became awful, all music became synth music, and I pretty much gave up on the whole mess that was pop music. That caused some branching out. One of my first CDs was "The CD of JB," a fantastic collection of James Brown's music, with which I had not previously been terribly familiar. From there, I started to explore other forms of R&B – I was far more likely to pick up music from BET than MTV in that period. And then out came a big hit by George Clinton, founder of the P Funk Mothership, "Do Fries Go With That Shake?" (A phrase that hasn't aged well, one admits.) On the strength of that, I bought this album (new, probably at Record Theater) and began trying to figure out what was up with George Clinton.
Listen, for a young guy coming off the British Invasion and Marc Almond's torchy wailing, this stuff is out there. The album cover is incomprehensible — but not in that acid hippie way I'm used to. This is some other kind of way. (It also features several images of 5-1/4″ floppy discs at a time when most people had no idea what that was.) The messages seem to be a mix of personal and racial politics– the cover tweaks the idea of "crossover" while being bannered as "A Epic Crossover Adventure." Among many things, the cover warned that this album may contain material that depicts:
Improper Grammar and/or Slang
Communist Agitator Lyrical Overtones
Welfare Fraud
Bambezi Fertility Rites
Suspicious & Unknown Social Impact
The cover is angrier and more subversive than the music, but it's also right that this is not aimed at crossing over. This album is what it is. There are only seven songs on the entire album, and their structure is hardly "verse-verse-chorus-bridge." It was . . . confusing. But good. And sometimes, confusing is good. This and JB got me more into some music I would otherwise not have discovered. Eventually I picked up some more Parliament, Funkadelic and more, though largely digital. For years I was confused about where George Clinton, Parliament, and Funkadelic intersected, and it turns out I was not alone – it's a hard timeline to sort out and separate. There's a wiki for that.
This acquisition also led to one of the craziest concerts I've ever seen when we caught some version of the P Funk experience at the Palace Theater in Albany, somewhen in the early 2000s. That was a phenomenal experience, and deeply funky.