There's such a locational component of the memories that are important to us. For me and my fellow vinyl geeks, it isn't just the records, it's the places we bought them. I remember where I bought the vast majority of my records (and CDs). The first two locations of Desertshore Records in Syracuse, where I spent hundreds of hours digging through the bins, are as much as part of all this as the records themselves. I can remember thrift stores, City Missions and flea markets only because I picked up records there. (Of course, I also remember which theaters I saw most movies in.) And yet this record, and a whole bunch of others, came from a location I can't remember – a garage sale that changed my life, musically. I know it was in Syracuse, I know the neighborhood it was in, but just precisely where, I couldn't say.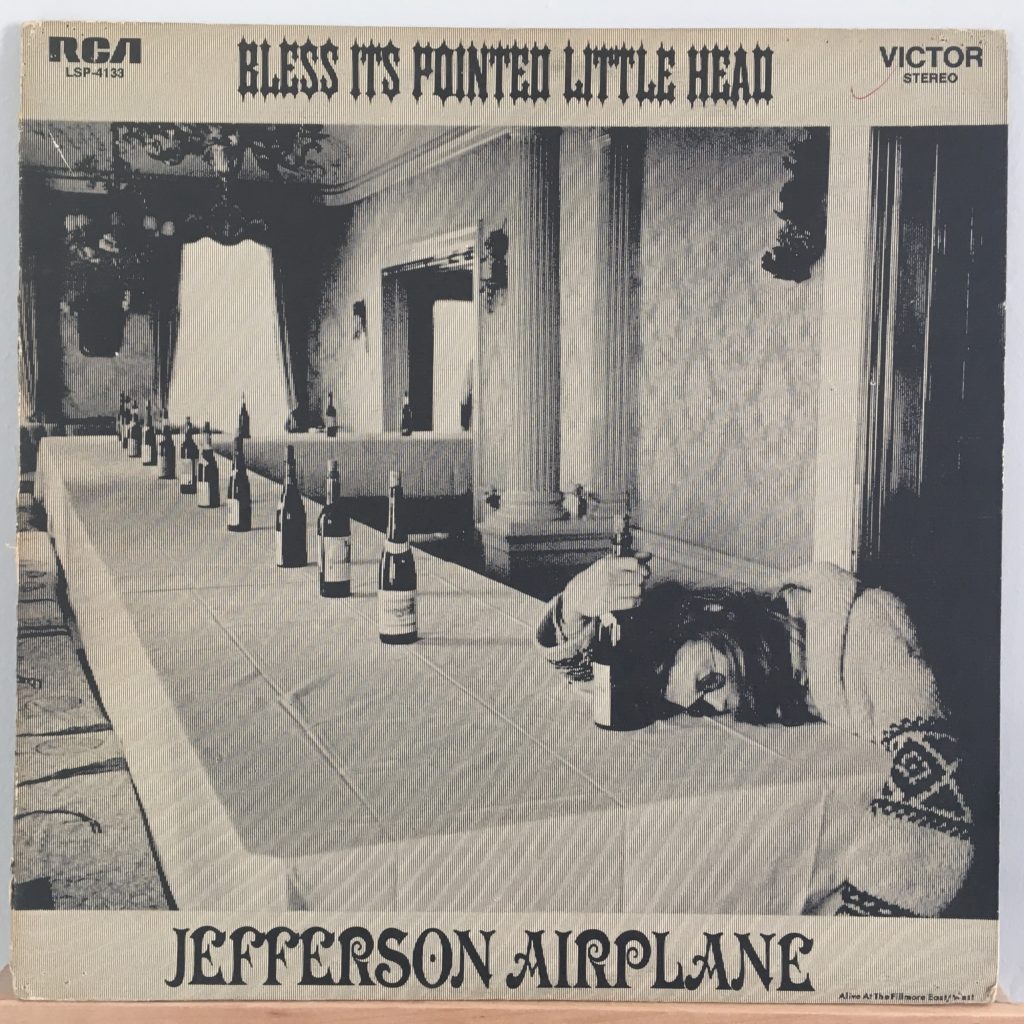 I know it was within just a few blocks of a glorious apartment I sublet in the summer of '79, at Broad and Buckingham on the outskirts of what was normally thought of as the student neighborhood at Syracuse. I know it was up in the hills nearby, in a very nice semi-suburban neighborhood of lovely homes. I must have gotten there on my bicycle, and was most likely just wandering the neighborhoods for anything to do. So, why not completely blow my little musical mind with a bunch of 25 cent records by groups I was sorta aware of but didn't have in my collection?
I picked up two Jefferson Airplane records that sunny Saturday in May: "The Worst of Jefferson Airplane," and "Bless Its Pointed Little Head." The former was my introduction to the breadth of the band's capability; the latter to their incredible live presence.
That first summer away from home, when I was living off a borrowed stereo in a common living room as a subletter who was tolerated but not beloved by the main lessors, it was hard to get any private time to really listen to these records at an appreciable volume (and I didn't have headphone money – headphones were durable goods in those days). I would position myself as close to the little bookshelf speakers and just try to lose myself in the sound. With this and Worst Of, I was transported, no matter what the volume. But once I was free to do so, I always like to turn this up.
For the longest time, this has been my absolute favorite live album ever. Recorded in autumn 1968 at both Fillmore East and West, it is just fantastic. The sound quality is quite amazing for a live album of its time, and it turns out that was the case for any number of sessions recorded at the Fillmore. The energy of the band is fantastic, the rhythms smooth, the playing loose . . . it really feels like you're there. It just grooves beginning to end, starting with the kinda hard-to-understand "Clergy," a weird little bit where they play the climax of "King Kong" (Jorma Kaukonen, asked its origin, recently said "That sounds like a Grace thing") and then just banging into "3/5 of a Mile in 10 Seconds." A long groove through Donovan's "Fat Angel," the best cover of "The Other Side of This Life" ever, and on it goes. I fell in love with it from the start. Not only is it my favorite live album of all time (with a possible exception to come), but it's in a very tight tie for my favorite Airplane album, with Volunteers.
So, to whatever family in the Nottingham neighborhood gave up these "old" records back in 1979: you changed my life.