Well, this one is a little unsatisfying. The next album in Marc Almond's oeuvre is "Stories of Johnny." Of all his solo post-Mambas work, it is my absolute favorite. It came out in 1985, when I was on the verge of 25, working hard but enjoying life. It was a year when we were really discovering ourselves, road tripping all over the state and beyond, learning about new places our unreliable little Renault Fuego could strand us. We spent the summer collecting state parks and waterfalls, and ventured into the Berkshires and Tanglewood for the first time. It was pretty glorious.
Musically, it was also an important time. With radio failing to entertain or even just not annoy, I had to find new music. I went deep into a classical phase, and became obsessed with Kurt Weill, and continued my obsession with Marc Almond. That autumn, this excellent album from Marc came out, his most melodic and accessible yet. It's wonderful, and I played it constantly that year and many later years.
So, why don't I own a copy of the LP "Stories of Johnny"?
1985 was the year compact disc players became something like affordable. The format had been touted for a year or so, and discs were starting to show up in record stores, in very limited quantities and selection. The hardware was plummeting in price, from anywhere between $700-$1000 to a much more affordable $350, which is about what I paid that year for a pretty nice Denon CD player. The discs themselves were running above $17 — I remember Gerber Music in Syracuse (DeWitt, really, in Shoppingtown Mall) made something of a bargain at three discs for $45. A top vinyl album wasn't more than $10. But this was the way to always hear your music clean—no pops, no skips, no hiss. And every play didn't wear out the record. This was clearly the format for the future.

The Denon DCD-1000. State of the art for 1985.
So I bought that Denon CD player — at a time when that price represented about a week's pay — and then I had to buy at least a few discs to play on it. Three, in fact, for $45.
One of those discs was "Stratas Sings Weill." If you want me to float back to life at 25, just put on any song from that album.
The second disc? Not sure at the moment. Probably classical. It'll come to me.
But the third? "Stories of Johnny." The permanence of the medium was much appreciated, as I played the heck outta that disc. It is lush and lovely. The darkness is tempered somehow, and the songs approach hopeful at times. The title track is lovely and sweet, particularly in the version that includes a children's chorus. "Always" is a flat-out declaration of love. "The House Is Haunted" is a jaunty blues romp, a playful cover of a 1934 Billy Rose song. Even "The Flesh is Willing" and "Love and Little White Lies" take a brighter, more rhythmic approach to Marc's usual theme of love gone very wrong.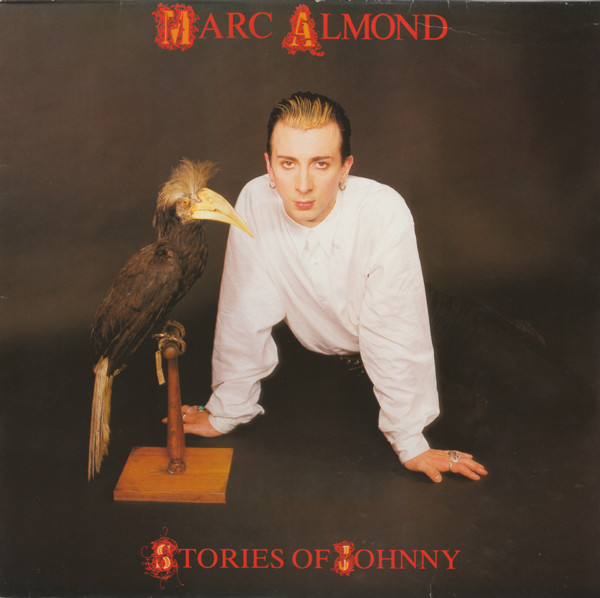 But, I never bought it on vinyl. At $15 I may not have wanted to spend even more to get the LP, even though that was still my primary way of listening to music. I did buy several singles from the album, however, which offered plenty of non-LP bonuses.
Among our travels that year were a trip or two to NYC, visiting sister-in-law whom I think had just decamped from Manhattan to Brooklyn. Oddly, the singles from "Stories of Johnny" that I own all seem to have come from New York City record stores.
There's the title track, "Stories of Johnny":
But people, they don't really listen
Their smiles are the keys to the prison
I'll call on the angels, to hold my head softly
They'll always remember . . . Stories of Johnny
This disc has two additional songs, "Blond Boy" and "Take My Heart," along with the Westminster City School Choir version of "Stories of Johnny."
This one still has its original sticker on it . . . otherwise, I promise I would have no memory of it having come from a place called Free Being Records at 129 2nd Ave. in NYC, in the East Village. $4.49 still felt like a lot to pay for a single, but I was obsessed, and there were extra songs. I have no other particular memories of Free Being, although it was probably where I bought "The Stars We Are" sometime later, because I have a fairly strong memory of that having come from a store in the East Village.
I also have the 12" of "Love Letter," a special remix by Cabaret Voltaire, backed with another version with the Westminster City School Choir.
There are times
You can't help but to cry
And time won't heal
By and by

There are times
You can't hold back the tears
And hurt won't heal
With the years

But, I will always love you
Always love you
Always you and no-one else but you
"Love Letter" has a big sticker on the bag that says "Wheels Import" and apparently was a whopping $7.98. I have zero memory of any record store called Wheels; the price sticker on the other side suggests another name, "Viable Alternative," but that doesn't fire any synapses either.
The last disc is an epic, which I think one could consider an EP. It has three songs on the A side: "The House is Haunted (Ectoplasmix)," "Broken Bracelets," and "Cara A Cara." The B side has a fantastic medley of "Unchain My Heart / Black Heart / Take My Heart," featuring some insane trumpet, and an Annie Hogan song called "Burning Boats." Odd that, of all the songs, only the lyrics for "Cara A Cara" are printed on the jacket.
Apparently I bought this one for $5.99 at Second Coming Records at 235 Sullivan Street, just below Washington Square in a neighborhood I have zero memory of having spent time in. Someone else remembers it way better than I do. Must say, at $5.99, this was a much better buy than Love Letter was. I love the heck out of the "Heart/Heart/Heart" medley.
Now that I'm acquiring vinyl again, I have to admit, if I run across a copy of the "Stories of Johnny" LP, I'll probably grab it.