Wow. What is there to say about this album? In 1982, things were happening, musically. There was change, opportunity, an explosion of creativity. "New" sounds were breaking in everywhere, although many of them were just a return to something other than the laden heavy rock sound that bogged down the '70s. Jangling guitars came back, R.E.M.'s sound was getting started, rockabilly made a bit of a comeback, super pop like The Go-Gos became possible again. There was Human League's "Don't You Want Me," but there was also Fingerprintz and Marc Almond. Not to worry, the industry's relentless focus on reproducing previous success would soon drive everything into the same synthesizer-laden formula being applied to all types of music, and that distinctive sound of '80s music would wash up on the beach, a stinking carcass emanating a miasma from which there was no escape.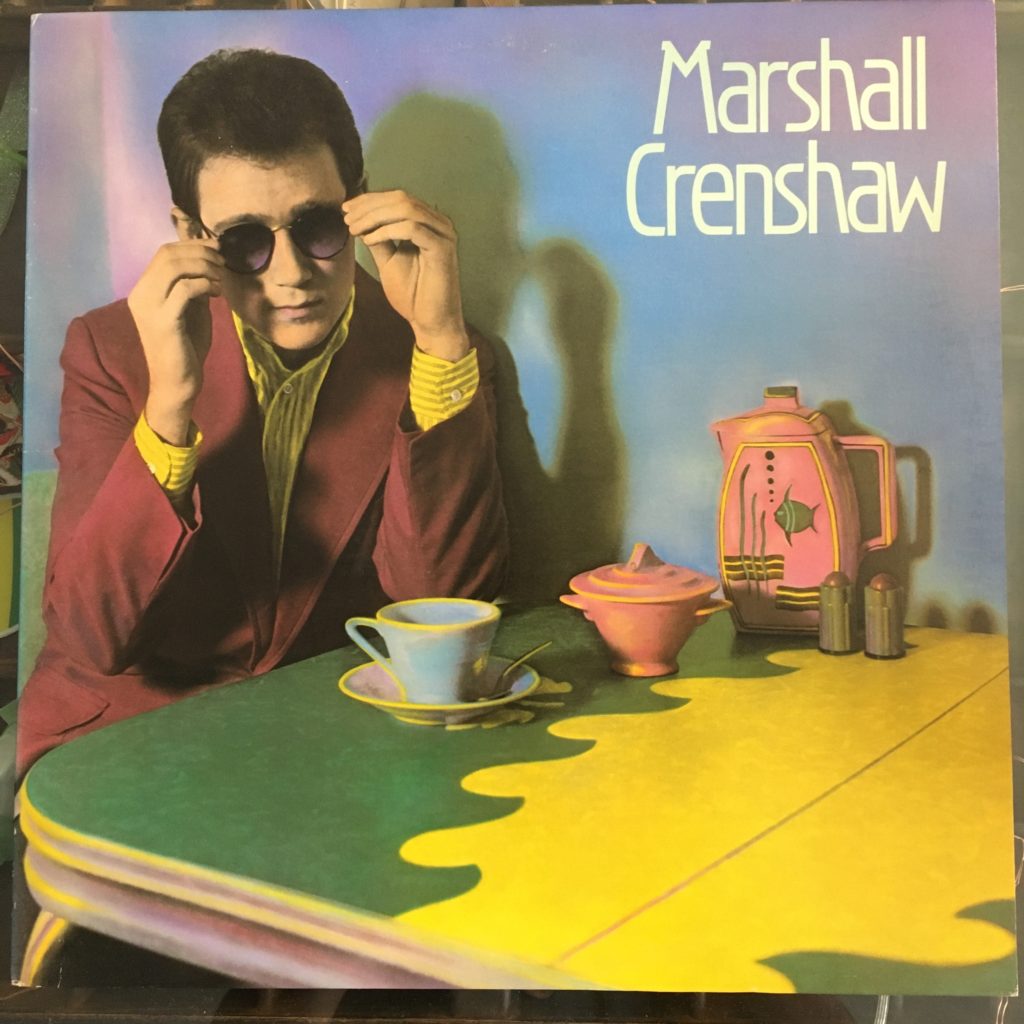 But in this brief minute, popular music could be a lot of things, and one of those things was this incredibly refreshing debut album from Marshall Crenshaw.
This came out in spring of 1982, and the single "Someday, Someway" got radio and MTV play and a whole lot of my attention. In the press, Crenshaw's affinity for the Beatles and experience playing John Lennon in "Beatlemania" were definitely hyped, and there's no question that this is great pop/powerpop, but it's also its own thing, and I wouldn't say it sounds Beatlesque. Like anything that wasn't straightforward rock and roll, it got lumped under the "New Wave" label, though now people are more likely to call it power pop. Whatever: it was refreshing.
These songs are the sound of that spring to me. "There She Goes Again," "Someday, Someway," "Rockin' Around in N.Y.C.," "The Usual Thing," and maybe most of all, "Cynical Girl."

Well I'll know right away by the look in her eye
She harbors no illusions and she's worldly-wise
And I'll know when I give her a listen that she's
She's what I've been missin', what I've been missin'
I'll be lost in love
And havin' some fun with my cynical girl
Who'll have no use for the real world
I'm lookin' for a cynical girl
Listen, I was a dumb 21-year-old and that's how I felt. As they say these days, I felt very seen.
The cover art was so cool, stylish, colorful and 1982 as well. This album really owned its moment.
The absolute capper for me, the proof that I was meant to listen to Marshall Crenshaw, was his cover of "Soldier of Love." That song was a through-line from The Beatles to local favorites The Flashcubes, and to my heart. (I don't know why I love it so, it's got nothing I'm usually looking for in a song and some things, like military references, that I'm usually not. Love can't be explained.) And if Marshall Crenshaw knew that song, recorded that song . . . well, he had to be something special.
I never really connected with another Crenshaw album like I did with this one — at least not until 2001's "I've Suffered For My Art . . . Now It's Your Turn." I don't have that on vinyl, only CD, but when it came out it sparked a renewed love for Marshall's songwriting, revealed a number of songs I had missed, and really highlighted his performing abilities.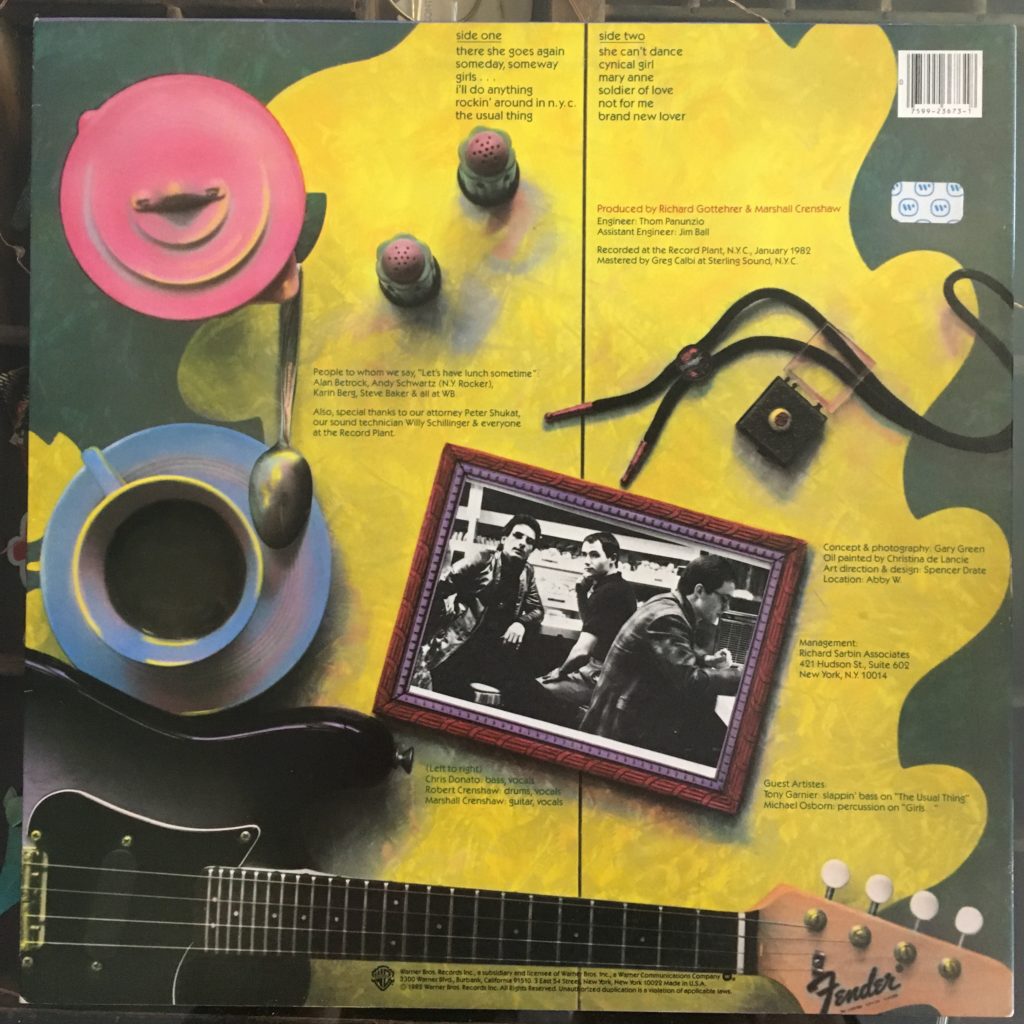 It would be years before I would get to see him perform. The first time was when the kids were little, maybe 1998, at a Belleayre Mountain music festival in the Catskills. We went to a couple of events there, so I've jumbled up all the acts we saw and can't remember who else performed that night (though I think Richie Havens was on the bill). It was a beautiful, warm summer night as we saw on the hillside outside the music tent, encouraging our bundled children to pass out so their parents could enjoy what were very much our songs. Can "Cynical Girl" be an "our song"? Oh, yes it can.
We got to see him again eight or so years later when he came to Albany. There isn't enough electronic ink available to get into how much I disliked WAMC, the local/regional chain of public radio stations. Somewhen in the mid 2000s they had opened an alleged performing arts space, which was, in fact, a barely converted former bank lobby — and not one of the old eloquent ones. There was a stage barely above the floor, folding chairs, support columns blocking the view, and a general sense of being crammed together in a small room to watch Marshall and a small band perform. It was a great show despite my dislike for the venue.
Fast forward to our move to scenic Phoenixville, and somewhen in our first year here, Marshall Crenshaw was playing the local coffeehouse, Steel City. Now, Steel City hadn't quite yet become our home away from home, but we already appreciated that it hosted weekly open mic nights where were we seeing incredible local talent and a real community, as well as performances by local and regional performers in an intimate, non-bar setting when you could actually listen to the music. We bought reserved tickets and ended up sitting right in front of the stage . . I mean, RIGHT in front of the stage. Steel City's a small place, so if you want to see your idols, that's the place. I believe it was the first time we ever saw Cliff Hillis, a local songwriter/performer who has been in more well-known Philly/Wilmington/Baltimore area bands than I could name, as well as playing with big touring acts. I immediately loved his songs, and ever since don't miss any chance to see him play. Then Marshall came out on stage, seated right in front of us . . . so close I kinda felt the need to avoid eye contact. It was fantastic. And kinda romantic, to be sitting there with the cynical girl of your dreams, listening to Marshall sing your songs to you.
Then a few years later, we got to see him locally again, this time fronting Los Straitjackets, in June 2017, at World Cafe Live. As a huge Ventures fan, I have of course been a huge Los Straitjackets fan as well, ever since their 1995 debut, "The Utterly Fantastic and Totally Unbelievable Sound of Los Straitjackets." Occasionally, they take on a vocalist, and on this night, Marshall Crenshaw was that vocalist. I mean, just the concept blew my mind . . . for me, this was a "you got peanut butter in my chocolate" moment. Unbelievable that those two things I loved so much could be combined. (They've lately been touring with Nick Lowe, and while I haven't been fortunate enough to see that bill, it also blows my mind.)